Let the energy professionals at MiEnergy assist you with your water heater needs
The new electric water heaters are marvels of technology. They're not only safer than other types of water heaters, they're lower in cost. Installation is less expensive too. Best of all, MiEnergy Cooperative offers some great incentives to buy one.
MiEnergy has programs to manage your water heater's energy use so that it heats your water during off-peak hours when the cost of electricity is lowest. This results in cost savings for you. And, because the new electric water heaters are larger and better insulated, they'll keep all the water you want hot until you need it.
Compared to even the most modern gas water heaters, the new electric models are safer, cleaner and more convenient. Electric water heaters don't need venting. There's no flame and no fumes. Nothing to pollute the air inside your home, which means everyone will breathe easier. MiEnergy sells 85 and 105-gallon Marathon electric water heaters. 
Are you building a new home? Contact us to find out how you can get a free 85 or 105 gallon Marathon electric water heater!
Make the switch today. If you would like more information about the new electric water heaters or energy management controls, call the energy professionals at MiEnergy.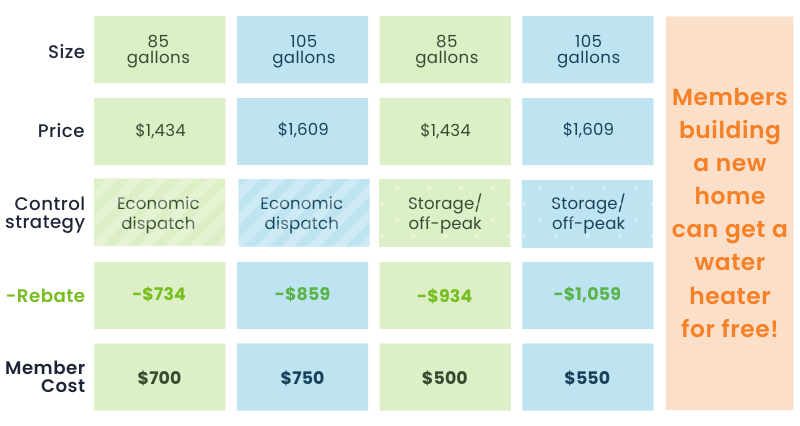 Must be on the MiEnergy energy management program.
Must be a stand alone connected load, cannot be used in conjunction with any fossil fuel heating systems or as buffer tanks for geo-source heat pumps.
Installation of the water heater is the responsibility of the member.
Free service calls during regular business hours (7:00 – 3:30 M-F). $150 service call charge if after regular business hours.
Free limited lifetime tank replacement warranty for residential single family dwelling installations. For other installations, see warranty chart.
Complete manufacturer's warranty information is provided with the water heater. Warranty issues are subject to the terms and conditions of the manufacturer. Owner must register water heater online within 90 days of the installation date to qualify for lifetime warranty. Register your water heater
Call MiEnergy for more information regarding the following rebates:
Heat pump water heater- Integrated (all‐in‐one) units, Uniform Energy Factor ≥ 2.00. Load control not required – $300/Unit
Solar storage water heaters w/ electric back-up, 75-99 gallons- $150/Unit
Solar storage water heaters w/ electric back-up, 100+ gallons- $300/Unit
Electric$ense energy management is a name that better reflects what was previously called load management. It helps reduce electricity use when demand for it is high which can lead to spikes in electricity prices. 
Energy management helps balance supply and demand. It involves techniques such as interrupting water heaters or air conditioners for short periods of time, and controlling when irrigation pumps or grain drying systems run. This reduces Dairyland Power Cooperative's total demand during peak use hours. Extremely warm or cold weather also creates an enormous amount of demand on the energy system, with the increase in air conditioner and furnace use.
By participating in MiEnergy's energy management program for water heaters you can save money. Rather than starting up a power plant for a short period of time or purchasing power from the wholesale market when prices are expensive, electric demand is reduced by controlling water heaters. MiEnergy sells electric water heaters that are energy efficient and large enough to be capable of providing you with hot water during control periods. There are basically three classifications of water heater control: 
Residential. Water heaters can be controlled at any time with the maximum control period not exceeding six hours in duration during any 10-hour period. 
Storage. Water heaters are controlled Monday through Friday (typically no weekends or holidays) for 8.5 hours per day in the summer (11:30 am - 8 pm) and 14 hours per day in the winter (5 am - 12:30 pm, 3 pm - 10:30 pm).
Dairy. Water heaters can be controlled up to six hours, after 5 pm, as required.
Should Dairyland Power determine emergency conditions exist, both residential and dairy water heater control times can exceed the six-hour duration. Storage water heaters can be controlled on weekends and holidays during full load control events.