Safe Electricity program
Your cooperative has a strong commitment to making sure everyone understands the safe use of electricity and precautions to take while working around electric equipment and appliances. That's why MiEnergy is part of a broad program called Safe Electricity.
Safe Electricity promotes safety awareness through many communications, including general and detailed information for members, children's games that focus on educating youth about electric safety as well as activities and resources for teachers.
Safety demonstrations
To help increase the safety awareness and well-being for its members, your cooperative provides a safety program for interested groups. This interactive program is ideal for school and community organizations and focuses on the importance of high voltage safety. The safety demonstration is an innovative teaching aid designed to convey important messages on electrical safety. The model size electrical system allows the audience to witness the result of electrical contact with conductors such as trees, ladders and vehicles. To help further convey the seriousness of electrical safety, special effects including neon figures that light up and electrical arcs are incorporated.
This educational demonstration has been successfully utilized at schools, 4-H meetings, church groups, scouting events and farm safety day camps. In addition to high voltage electrical safety, the generation and transmission of electricity, household electrical safety and careers in the electrical field can also be discussed.
Operating large equipment is a dangerous job. MiEnergy and Safe Electricity offer this quick checklist of safety considerations for large equipment operators to keep in mind before beginning any job:
Make a plan each morning. Know where power lines are and how you plan to stay clear of them.
Keep machinery, equipment and yourself at least 10 feet away from overhead power lines in all directions, at all times. Higher voltage lines require a greater distance be maintained. If you are uncertain of the voltage, maintain a distance of 18 feet.
Use a spotter to help you stay clear of power lines.
Power lines begin to sag over the years. If sagging power lines are in your way, do not raise them. Call your utility to fix the power lines and raise them high enough for you to work.
Weather should be a consideration in your daily plans. Keep in mind that tall objects could be blown out of control by the wind, and particles in water are a good conductor of electricity. Some activities are not appropriate for a damp or windy day.
If you are on equipment that becomes entangled in power lines, do not step off the equipment. When you step off the equipment, you become the path to ground and receive an electric shock that could be fatal. Stay put, call the utility for assistance, and warn others not to come near the equipment. Then wait for utility professionals to shut of electricity to the power line, and confirm it is safe to exit equipment.
Be sure everyone you are working with knows proper safety procedures and emergency contacts
"Teach Learn Care TLC" Campaign: Safe on the bus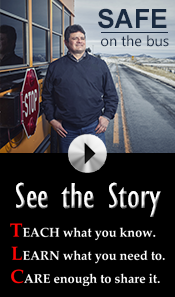 On an April morning in 2016, Clint Shults was driving a school bus to take students to an FFA competition in Rangely, Colorado. The team's horse judging coach, Silvia, followed the bus in her car. Heavy, wet snow had been accumulating, and the bus snagged a power line just as it was falling to the ground under the weight of the snow. "We started dragging power lines for the next at least 100 yards, and knew we were in pretty tough shape," Clint says. From behind the bus, Silvia witnessed several bursts of fire. Fortunately, Clint, dispatch, and first responders knew the right steps to take to keep everyone safe.
Visit MiEnergy's YouTube page to watch the three minute video. 
License to Live: Surviving Auto Accidents Involving Downed Power Lines
Each year, accidents in which motorists hit power poles happen tens of thousands of times. Each accident has the potential to bring live power lines to the ground. Tragically, many drivers and passengers who survive the impact are electrocuted when they attempt to leave the vehicle. In the vast majority of cases, the safest action is to stay inside the vehicle until the local electric utility is on the scene to assure the lines are de-energized.
Watch below or visit MiEnergy's YouTube page to watch a video produced by Safe Electricity. The six minute video was put together to make sure drivers and passengers know what to do if they are in a crash that involves power lines or other electrical equipment.
When you start to plan for a new grain bin, please contact your electric cooperative. MiEnergy will provide assistance in planning for a safe environment for everyone working and living around grain bins. The State of Iowa requires specific clearances for electric lines around grain bins, with different standards for those filled by portable and permanent augers, conveyors and elevators.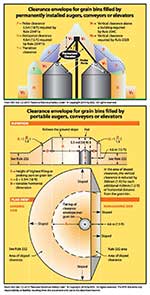 According to the Iowa Electric Safety Code found in Iowa Administrative Code Chapter 199 – 25.2(3)b. An electric utility may refuse to provide electric service to any grain bin built near an existing electric line which does not provide the clearances required by The American National Standards Institute (ANSI) C2-2012, page 120. "National Electric Safety Code," Rule 234f. This paragraph "b" shall apply only to grain bins loaded by portable augers, conveyors or elevators and built after September 9, 1992, or to grain bins loaded by permanently installed augers, conveyors or elevators built after December 24, 1997. (As adopted by the Iowa Utilities Board)
MiEnergy is required by the Iowa Utilities Board to provide this annual notice to farmers, farm lenders, grain bin merchants, and city and county zoning officials. If you have any questions concerning clearance regulations, please call MiEnergy Cooperative at (800) 432-2285.
Disclaimer: These drawings are provided as part of Iowa electric cooperatives' annual public information campaign and are based on the 2012 Edition of the NESC as corrected.  To view the actual drawings refer to 2012 Edition National Electrical Safety Code and the Errata to 2012 Edition National Electrical Safety Code Correction Sheet issued April 29, 2013.  Every care has been taken for the correctness of the contents of these drawings. However, the IAEC and its member cooperatives accept no liability whatsoever for omissions or errors, technical inaccuracies, typographical mistakes or for damages of any kind arising from the use of the contents of these drawings, whether textual or graphical.
Are you planning to move a grain bin?
It's very important to call MiEnergy if you are planning on moving a grain bin.
Need more information?
Reap What You Sow: Stay Safe During Planting Season
Long hours and fatigue are a constant battle for farmers during planting season. If you farm, remember to take care of yourself by getting as much rest as possible and allowing yourself breaks to clear your head.
Be especially aware of electrical hazards around the farm. Be cautious and think twice before acting around electricity. MiEnergy Cooperative and Safe Electricity offer farmers the following reminders:
If your machinery or vehicle comes in contact with a power line, do not get out. Once contact has been made with a live line (even when your tractor or truck makes contact), you are now a "pathway to ground" and you could get electrocuted if you step out. Instead, stay where you are and call
9-1-1 to dispatch the appropriate utility to de-energize the power.
If you come across an accident or incident near a downed power line, alert individuals (from a distance) to stay in the tractor or vehicle as long as there is no imminent danger. Do not approach the scene.
When using machinery with long extensions or tall antennas and when using ladders, look up to avoid contact with overhead power lines.
Even if there is no contact, an electrical current can jump or arc so keep equipment at least 10 feet from surrounding power lines at all times.
Remember, non-metallic materials (such as tree limbs, ropes and hay) can conduct electricity, depending on dampness and dust/dirt accumulation.
Visually inspect overhead lines, which may not meet height codes due to age or pole damage. If a wire is hanging low or is on the ground, consider it energized and stay at least 50 feet away; call 9-1-1 to have the operator dispatch the utility.
Every day, map out where equipment will be moved to ensure it will clear power lines.
When working in the vicinity of power lines, always use a spotter who has a broad vantage point.
Train anyone working with or for you (including seasonal employees) to be aware of power line locations and teach them proper clearance distance. Also design and implement a safety training program that includes a review of electrical hazards and how to safely deal with power lines.
According to American Family Insurance, "know your PTO." To stay safe when working with a power take off (PTO), always disengage the PTO, turn off the engine and remove keys before getting off the tractor. Also, never step across a rotating power shaft.